Wyvern Academy, celebrates GCSE results day 2023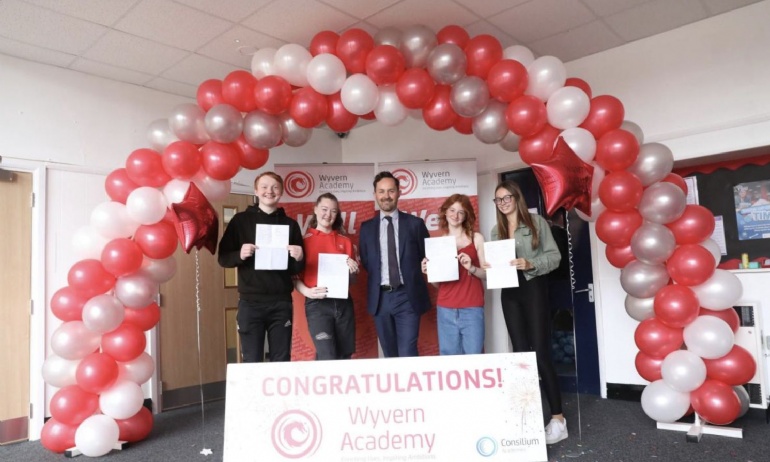 Wyvern Acadmey has been celebrating after their students received a "tremendous" set of GCSE results.
Our students were part of the thousands of young people opening those dreaded envelopes revealing their GCSE results.
The mood was one of relief for many after a two-month-long wait to see those eagerly awaited results, graded from 1 to 9.
For this cohort, the pandemic hit their education when they were just thirteen and fourteen in year 8, meaning they were able to sit their exams without any disruption.
Five achievers spoke of their fantastic sets of results and revealed their plans for the future as they said goodbye to secondary school forever.
All five youngsters said they were "really relieved" at their final grades as they all plan to study at Darlington's Queen Elizabeth College (QE) this September.
Dillon Sterling will be studying his A-Levels in History, Criminology and Sport, with ambitions to one day join the Army after university.
He said: "I am just feeling so relieved that the pandemic didn't hinder my results!"
Holly Bainbridge was one of Wyvern's students who passed all her GCSEs, she will be going to study Law and criminology while she still decides on her third A-Level option.
Millie Walker will be joining her fellow students at QE in September after she surpassed her expectations and achieved a higher grade in an exam she re-sat.
She said: "I had to re-sit my Health and Social Care and I was hoping I would get a better grade this time. I ended up with a distinction star."
Millie will now study double sport and psychology at QE.
Libby Graham was one of the many high achievers from Wyvern, as she managed to get a 9 in English Literature, an 8 in History and a 7 in English Language. Her next step is A-Levels in Politics, Sociology and English Literature at QE.
Libby said: "I am very proud. My science grades were worrying me - I was scared about them. In the end, I got 6s which I'm really happy with.
"The teachers have been absolutely amazing."
Lottie Macmillan was also pleased with her set of grades, achieving 6s and 7s and will join her friends at QE this autumn.
She said: "There are some that were unexpected and I was happy with all of them, but there are somewhere I feel like I could have done better."
Headteacher of Wyvern Academy, Mr Inglis, expressed his delight at the "tremendous" results from the school.
He said: "We are really happy with the results today. They have just been tremendous, and we are really proud of what they have achieved.
"The pandemic has impacted these kids and their education massively, but with the support of the staff they have done really well."
Here are some snaps from the joyous day!