Wyvern Academy Business Support Officer shortlisted for National School Business Leader of the Year Award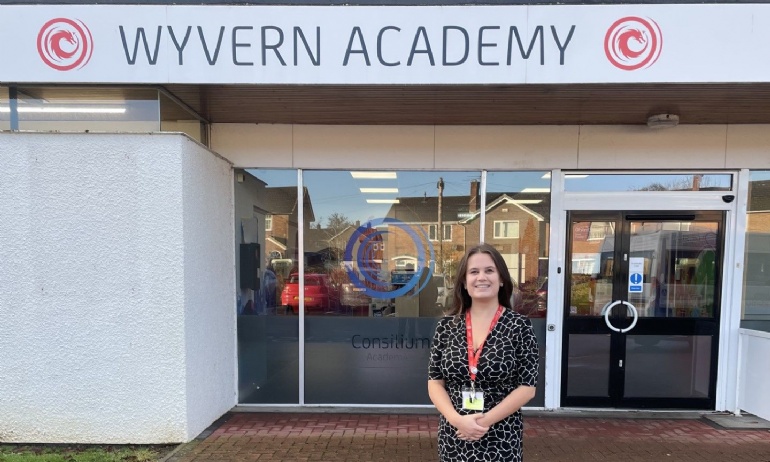 Wyvern's Katie Ferguson means business!
Students and staff at Wyvern Academy, part of Consilium Academies, are celebrating after their Business Support Officer, Katie Ferguson, has been shortlisted as a candidate for the National School Business Leader of the Year Award. She has been invited to attend the awards ceremony at the House of Lords next month where she will find out if she is the overall winner.
The National School Awards will bring together over 250 education pioneers to recognise, celebrate and reward senior leaders, schools and multi-academy trusts for their dedication and hard work. Baroness Barran MBE, the Parliamentary Under-Secretary of State for the School System will be providing the opening speech at the National Schools Awards this year.
Katie is fairly new to the school and has worked to transform the look and feel of Wyvern Academy. She has led the on the remodelling of the school reception and student areas and
the completed project showcases the history of Darlington, with inspiring spaces as a first impression of the school, right from the front gate. Her work has had a notable impact on the staff and students who now take even more pride in their school.
Katie is recognised as being proactive in managing the whole school business and quickly resolves operational issues. She is fearless and champions the school at every opportunity, her work has had a visible impact on her school, and it is often forgotten that this is her first academic year in post!
At Wyvern, Katie has implemented new systems of training management, introducing mandatory and vocational courses for school staff, working with line managers to identify and support training needs and ensuring it is completed. This means the school is now safer and staff have access to a wide range of development opportunities. This project was done to such a high standard that it has been implemented across the trust.
Katie Ferguson, Business Support Officer at Wyvern Academy said:
"I am so excited to be a shortlisted candidate for the National School Business Leader of the Year Award. The support I have received from both the Senior Leadership Team at Wyvern and the Executive Leadership Team at Consilium since I started has been amazing and this shortlisting is a reflection of that. The awards ceremony at the House of Lords will be a wonderful way to finish the year!"
Mr Owen Inglis, Headteacher at Wyvern Academy said:
"Katie is such a huge asset to Wyvern and everyone at the school is delighted that she has made the shortlist. We are keeping everything crossed for her and hope she takes the top prize at the awards ceremony at the House of Lords next month."