Local Apprenticeships
An apprenticeship is a real job where you learn, gain experience and get paid. You're an employee with a contract of employment and holiday leave.
Apprenticeships are an exciting option - you get hands-on training and also the chance to put your skills into practice.
Competition for apprenticeships can be tough. You need to be the best applicant by impressing with a strong cv, excellent GCSE results and a confident interview.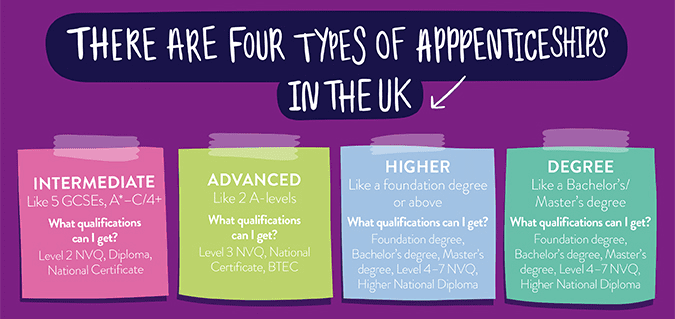 There are different levels of apprenticeship, depending on the qualifications you have.
Intermediate apprenticeships are suitable for trainees who may not have their Maths and English GCSEs at grade 4.
Employers offering advanced apprenticeships often ask for at least grade 4s at GCSE including Maths and English.
What will I earn?
There is no exact answer as employers are free to pay as much as they want. There is a minimum you can be paid. From 1st April 2023 it is £5.28 an hour for 16 year olds and increases as you get older and become more skilled.
How to get an apprenticeship
An apprenticeship is a job. Like all other jobs, the best candidate will get it!
The first thing to do is find a job you like the sound of. Then do your research; find out about the job, the company and think about this would suit you. Lots of firms use social media now so remember to look at their Twitter, Instagram and Facebook to see the type of work they do.
Check your cv is up to date and make any changes you need to so it fits the job you are interested in. Some employers want a cv, some want you to complete an application form. Remember to get someone to check it for spelling and grammar before you send it off.
If you are invited to interview, do more research. Be ready to answer questions about the job, why you would be good at it and what your strengths are. Think about any questions you have and make sure you ask them in the interview.
Tips for writing your CV
It can seem difficult to write a cv at the start of your career, as you may not have much to add. The National Careers Service has a guide to help you write your CV here.
Finding apprenticeship vacancies
You need to register on https://www.gov.uk/apply-apprenticeship This is the government website where all vacancies are advertised. You can search by area and occupation. You can also set an alert so you get a text when a new vacancy that matches your search is posted.
Hint: If you are interested in more than one type of work, set up multiple alerts so you never miss a vacancy.
You can also approach companies and ask if they are interested in taking on an apprentice. The easiest way to do this is by email, remember to attach your cv.
Some training providers offering apprenticeships keep a list of interested candidates, ready for when employers tell them about vacancies. This booklet from TVLPN lists providers and the apprenticeship training they offer, along with their contact details. TVLPN_Apprenticeships_2023
Local providers
Some companies specialise in training apprentices. They may be able to help you find an employer with the right job for you.
Here are links to some local companies
Darlington Council Learning and skills
Sources of information about apprenticeships
Information for trainees and parents, explaining what apprenticeships are. This website includes video portraits of apprentices working in the Tees Valley. https://www.teesvalleycareers.com/students/career-pathways/apprenticeships/
Apprenticeships – Tees Valley Learning Providers
Apprenticeships - Amazing Apprenticeships
National apprenticeships website
Lots of reliable information on apprenticeships and how to get one. https://www.apprenticeships.gov.uk/apprentices