Reading and Literacy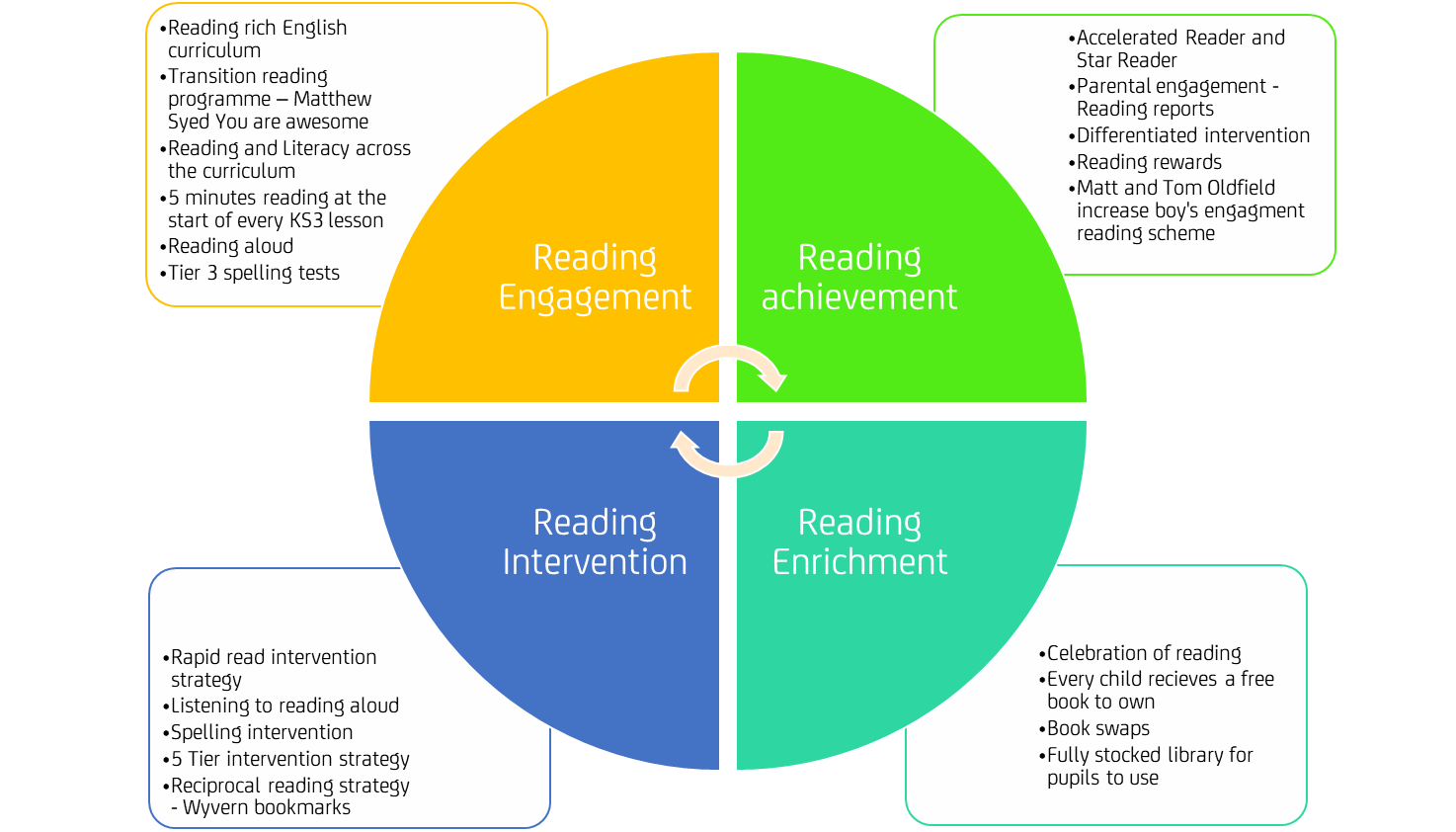 Reading Intent
Wyvern Academy is passionate about encouraging our students to have a love of reading and embedding a culture of excellence in all that we do. We believe that a love of reading not only leads to a love of lifelong learning and a wealth of cultural experiences, but also as the reading curriculum develops, so does our student's fluency, confidence, and enjoyment in reading.
We believe that every student has the right to a high-quality education, no matter their starting point and/or education and social needs. We value reading as an enriching activity, which can make a profound difference to our students' lives.
Unfortunately, some students do not have the opportunity to develop a love of reading at home and that this has to be taught and encouraged at school. We aim to develop a culture of reading across the curriculum that offers opportunities within school life. This strategic approach is to ensure a rigorous and sequential approach to the reading curriculum. Our curriculum will focus on students' development by providing exciting and challenging learning and extracurricular opportunities and experiences. By working together, we aim to develop links between different subjects and to support and develop reading skills.
We have invested resources to support the wider school development of the reading environment for all students, and to provide all students with books to own at home as well as prioritising stocking our library with books that will appeal to our reluctant boy readers.
Along with this, we promote reading for pleasure with our whole school reading strategy, using our Wyvern Academy bookmarks which challenge pupils understanding of what they have read. Crucially, we believe that all students, whatever their background, have the ability to learn to read. We recognise the importance of developing children's discrete word-reading skills and comprehension, and we aspire for all students to read fluently and well, achieving age related expectations over time.
We recognise the challenge this will pose for some of our students and recognise that every teacher and every subject area can support them by being an advocate for reading. As a school we appreciate that regular reading is linked to a developing vocabulary and improved skills in writing, and that both of these skills are vital to success in all curriculum areas and life beyond school.
Wyvern Academy made huge progress in its Literacy program last year closing the reading gap for all students. Here are some of the headline figures from last year.
| Year 7 | Scaled Score | Reading Age | ZPD |
| --- | --- | --- | --- |
| November Test | 574 | 10:05 | 3.6 - 5.6 |
| May Test | 638 | 11:00 | 4.0 - 6.1 |
| Change | +64 | +7 months | - |
| Year 8 | Scaled Score | Reading Age | ZPD |
| --- | --- | --- | --- |
| November Test | 623 | 10:10 | 3.9 - 5.9 |
| May Test | 741 | 11:10 | 4.2 - 6.7 |
| Change | +118 | +1 year | - |
| Year 9 | Scaled Score | Reading Age | ZPD |
| --- | --- | --- | --- |
| November Test | 716 | 11:07 | 4.2 - 6.6 |
| May Test | 810 | 12:05 | 4.4 - 7.3 |
| Change | +94 | +10 months | - |