Teaching and Learning
The SOLAR Learning Cycle
All lessons at Wyvern Academy follow the SOLAR learning cycle.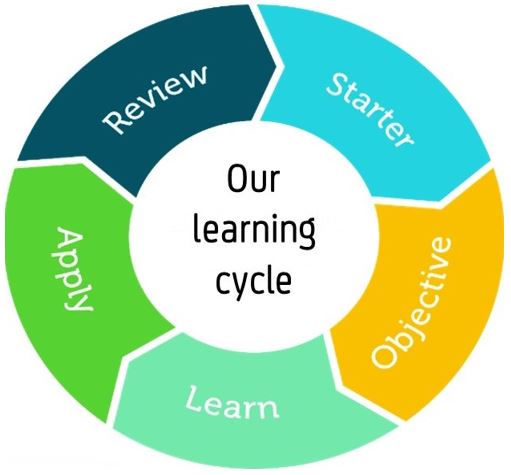 STARTER
Lessons in both key stages begin with a recall starter task. Students are encouraged to activate prior knowledge through the use of retrieval activities aimed at ensuring students know more and remember more.
OBJECTIVE
Teachers in all classrooms share explicit objectives with students. This ensures that all students know what they should be learning and why they are learning it. Teachers may take this opportunity to explain how the lesson fits into the bigger picture of the topic they are studying.
LEARN
The learn phase of the cycle will involve teachers using direct instruction to teach the concept required for students to be successful in the lesson and within the unit of study. Regular checks will ensure that learners have developed the same level of knowledge and understanding.
APPLY
Students use the newly acquired knowledge and apply it to a relevant activity. This could be an exam style question at Key Stage Four and will often include a piece of writing at Key Stage Three. Applying the newly acquired knowledge, deepens understanding and allows students to link learning from across the unit.
REVIEW
Learning reviews take place at the end of all lessons. The review phase helps students to solidify learning, aid recall and demonstrate understanding.
Marking and Feedback
Marking should be meaningful, manageable and motivating and used according to the teacher's judgement alongside other assessment practices. It should help to advance the students' learning and outcomes, therefore, we take a quality over quantity approach to marking at Wyvern Academy.
When marking student work, teacher consistently apply the SUN model for feedback.
Strengths: Teachers identify the aspects of student work that is strongest and in line with the success criteria. Strengths in student work will be identified with green highlighters.
Understanding errors: Misconceptions in student work is identified and highlighted in pink. Common misconceptions or errors are shared with students via the SUN marking grid.
Next Steps: Explicit next steps will be identified by staff who will identify an area for improvement. Next steps should be linked to an assessment objective to show the path to progress. Students will be required to respond in green pen.
Self and Peer Assessment
Self and Peer Assessment is used when appropriate as it encourages students to take responsibility for their own learning by:
Evaluating their own achievement against shared learning outcomes;
Identifying their own strengths and areas for improvement;
Encouraging individual learning goals and action plans for future progression;
Fostering a self-reflective learning culture;
Encouraging independence and resilience in learning.
In order to show consistency across the curriculum and to make our assessment process transparent and obvious, the following approaches to marking are used across the academy:
Teacher provided diagnostic feedback in red pen
All self and peer assessment must be completed in green pen.
Students respond to any feedback (teacher/self/peer) in green pen